Public involvement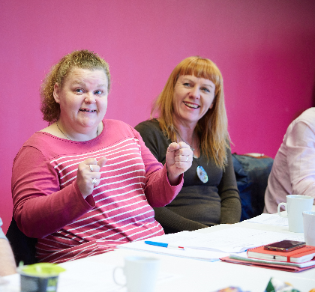 Fuse values public involvement and engagement as a vital part of our mission to get high quality research into the world to improve people's health.‌
The public voice influences our work by helping us to prioritise our areas of research, how we deliver our research, how we interpret our results and how we share our findings.
We welcome members of the public, service users, carers, patients, families and local communities to get involved in our research activities. You don't need any specific knowledge or previous experience, just an interest in public health research and some time to commit to sharing your thoughts and ideas with us.
To join the Fuse network and help make a difference to people's health, please register your interest by completing this short form so that we can let you know about any relevant opportunities to engage with Fuse.
Our Public Involvement and Engagement Group works to embed public and community engagement in Fuse research. Find out more about the group here.
For more information, contact Ella Anderson, Fuse Public Involvement and Engagement Manager - eleanor.anderson@ncl.ac.uk.
Below are examples of Fuse work involving public involvement and engagement.
Residents living north of the Tyne are being asked to take part in an interactive, online experience called Multiverse Lab that aims to shape the future of health research in North East England.
Last modified: Mon, 08 Nov 2021 11:00:36 GMT
Every day 250 people start to lose their sight in the UK, so outdoor public spaces such as streets and pavements need to be accessible, but they remain a daily obstacle course.
Last modified: Tue, 26 Jan 2021 15:43:27 GMT
Members of the Fuse Health Inequalities research programme from Durham University are working with two disability charities to create physical activity resources to improve disabled people's health and wellbeing.
Last modified: Tue, 26 Jan 2021 15:22:55 GMT
Fuse led network in the NIHR School for Public Health Research building a national community that shares a common interest in addressing health and social inequalities.
Last modified: Thu, 25 Mar 2021 13:35:01 GMT
Fuse worked with the NIHR School for Public Health Research (SPHR) to develop an overarching framework for Public Involvement and Engagement, applying these principles to work in co-production with different knowledge user groups.
Last modified: Wed, 24 Mar 2021 12:40:23 GMT
How Fuse helped one of its local authority partners to apply for national funding from the School for Public Health Research.
Last modified: Tue, 26 Jan 2021 23:07:44 GMT
Developing a research collaboration to address complex public health problems.
Last modified: Tue, 26 Jan 2021 21:33:19 GMT
Top