Public involvement
Equal England: collaborative research on health inequalities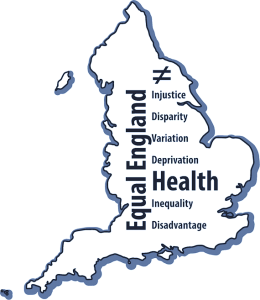 Fuse led network in the NIHR School for Public Health Research building a national community that shares a common interest in addressing health and social inequalities.
Health Inequalities Knowledge Exchange Network
The aim of the Equal England network is to expand the successful Equal North network to build a national community of academics, researchers, practitioners, and members of the public across England who share a common interest in addressing health and social inequalities. It now has more than 800 members.
The network supports the implementation of recommendations made by the Due North Report, an independent inquiry into health equity in the North commissioned in 2014 by Public Health England. The inquiry panel brought together different expertise and perspectives from the North East, North West, and Yorkshire and Humber and produced 4 key recommendations:
Tackle the social and economic causes of health inequality
Promote healthy development in early childhood
Share power over resources and increase the influence that the public has on how resources are used to improve the determinants of health
Strengthen the role of the health sector in promoting health equity.
Fuse leads the network, in collaboration with the seven other NIHR SPHR members along with collaborators from Public Health England, NHS England, Directors of Public Health from two Local Authorities, a Consultant in Public Health, charities, Public Representatives, and the Health Inequalities Research Network (HERON).
The network has held a series of successful events to build a community of partners and develop research priorities for addressing health and social inequalities.
Equal England Health Inequalities Public Network
To widen meaningful participation in public health research and to explore what works for people often excluded from research participation, Fuse researchers and members of local communities have worked together to develop a Health Inequalities Public Network. The network aims to involve members of the public to set priority areas for action and research by visiting grassroots organisations and building relationships with local people.
Despite barriers such as the COVID-19 pandemic and lack of internet access, local people involved in the network have still been able to contribute to the research agenda by giving feedback on proposals and shaping research ideas.
Plans to develop the network further include a community event to bring together a range of grassroots organisations and local people to showcase some previous community-based research, to get more local people involved, and to hear what they think needs to change to reduce inequalities.
---
Fuse Open Science blog:
The first step to an equal North
---
Fuse website:
EQUAL North network: collaborative research on health inequalities
---
SPHR website:
Equal England: inequalities knowledge exchange network
---
Linked SPHR themes/programmes:
Health inequalities theme.
Last modified: Thu, 25 Mar 2021 13:35:01 GMT
Top