Past case studies
Energy drinks and young people's health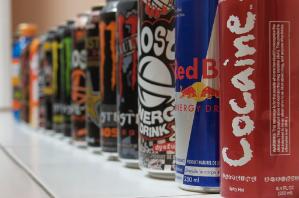 Should we be concerned about energy drinks and young people's health?
Around one in three young people say that they regularly consume energy drinks, which typically contain high levels of caffeine and sugar. Under-18s in the UK consume more energy drinks than those in other European countries.
Energy drink consumption in schools was identified as a concern in County Durham (North East England) by parents, teachers and professionals. This collaborative research aimed to explore the factors influencing this behaviour and inform plans to develop interventions to educate young people and parents. It is the first qualitative research on energy drinks to involve primary school children.
A review of the existing evidence demonstrated that consumption of energy drinks by under-18s is associated with adverse outcomes, risky behaviours and common health complaints, such as headaches and stomach aches.
The qualitative study - HYPER (Hearing Young People's Views on Energy Drinks: Research) Study - exploring views and experiences of energy drinks, involved pupils (aged 10-14), staff and parents from four schools in County Durham. Pupils also helped to survey the accessibility and availability of energy drinks locally.
The research revealed that energy drinks were easily available in local shops; sold for as little as 25p ('four for £1' promotions); targeted at children through online adverts, computer games, television and sports sponsorship; and linked to extreme sports, gaming, sexuality, gender, and use of sexualised imagery.
An information leaflet was developed with local parents and used in schools and dentist surgeries across County Durham and an animated video that health practitioners are using when they visit young people. The findings received international media coverage, contributed to a national campaign and most UK supermarkets subsequently banned the sale of energy drinks to under-16s. A Government inquiry was launched acknowledging the study, the research team gave evidence to the Science and Technology committee on the effects of energy drinks on young people's mental and physical health, and banning the sale of energy drinks to children was included in the government's childhood obesity plan.
The study was funded by The Children's Foundation and supported by local partners including Durham Drug and Alcohol Advice Service.
---
Last modified: Sun, 14 Jul 2019 16:13:29 BST
Top