News
Historic reforms needed to build a better food system to improve national health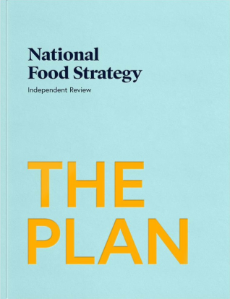 National Food Strategy calls COVID-19 a "painful reality check" that is an opportunity to transform our food system to save lives.
Calls for landmark Sugar and Salt Reformulation Tax, expansion of Free School Meals and major overhaul of food education as part of once-in-a-generation opportunity to rethink our diets and food production.
Poor diet currently contributes to an estimated 64,000 deaths every year in England.
The National Food Strategy today called on the Government to commit to a historic package of reforms to build a better food system for a healthier nation.
In a landmark report, food entrepreneur Henry Dimbleby sets out in stark detail how poor diets contribute to around 64,000 deaths every year in England alone and cost the economy an estimated £74 billion. Dimbleby also warns that our eating habits are destroying the environment, which in turn threatens our food security. The food we eat accounts for around a quarter of greenhouse gas emissions and is the leading cause of biodiversity destruction.
The independent report, commissioned by the Government in 2019, calls for the introduction of the world's first Sugar and Salt Reformulation Tax, with some of the money being used to expand free school meals and support the diets of those living in the most deprived neighbourhoods. It also calls for food education to be central to the national curriculum, and for food standards to be protected in any new trade deals.
Dimbleby also recommends measures to restore and protect our natural environment, by investing in sustainable farming techniques and new food technologies such as novel proteins.
In response to the report, Amelia Lake, Dietitian and Public Health Nutritionist, Professor of Public Health Nutrition at Teesside University and Associate Director of Fuse, The Centre for Translational Research in Public Health, said:
"The National Food Strategy Part 2 is welcome and very timely as we, as a population, have understood just how fragile our current 'just-in-time' food system is. The last 16 months have shown consumers that they cannot take the food system for granted.
"What we need to see from this strategy is joined-up policy action, not simply cherry picking of the 'easier', more palatable options.
"Some of the points suggested in the strategy may make for some uncomfortable conversations.
"We need to acknowledge that food and sustainability need to be seen in parallel and that great inequality exists around access to healthy affordable food. Food and health are inextricably linked; food production and processing methods affect the health of us all and our planet too.
"Tackling issues around food requires whole systems approaches and requires our government, food producers, the wide food industry, food retailers and we as consumers to have a role.
"Voluntary measures alone, such as the reduction of sugar in food, have proved to be much less effective than – for example – the sugar levy. This strategy with its systems-wide approach has the potential to revolutionise our food system and the health of our population. Let us see our nation's food and health brought up high on the government's agenda."
The National Food Strategy report sets out how diets will need to change over the next ten years to meet the Government's existing targets on health, climate and nature. By 2032, fruit and vegetable consumption will have to increase by 30%, and fibre consumption by 50%, while consumption of food high in saturated fat, salt and sugar will have to go down by 25%, and meat consumption should reduce by 30%.
Poor diet currently contributes to an estimated 64,000 deaths every year in England. More than half of over-45s are living with diet-related health conditions, putting an enormous strain on NHS resources.
By 2035/36, diabetes alone is projected to cost the NHS £15 billion a year, or one and a half times as much as treating all cancers does today.
The Organisation of Economic Co-operation and Development (OECD) estimates that the combined cost of food-related disease, in lost workforce productivity, low educational outcomes and NHS funds, is £74 billion every year. This is equivalent to cutting the UK's GDP by 3.4%. To cover these costs, each person in the United Kingdom pays an additional £409 in taxes per year.

The report estimates that the recommendations will cost around £1.4 billion per year and bring in £2.9 - £3.4 billion per year of direct revenue to the Treasury. Over the long term, they will have an economic benefit worth up to £126 billion.

The National Food Strategy aims to transform the food system for the benefit of current and future generations, covering the entire food chain from field to fork. Major backers of today's report include chef and campaigner Jamie Oliver, social welfare expert and former senior civil servant Dame Louise Casey, the economist Partha Dasgupta, and the chef Prue Leith.
Summary of Recommendations

The recommendations in the National Food Strategy are grouped under four objectives:
Escape the Junk Food Cycle to protect the NHS
Reduce diet-related inequality
Make the best use of the land
Create a long-term shift in our food culture
The details of each recommendation can be found in Chapter 16 of the report. Visit www.nationalfoodstrategy.org
Last modified: Thu, 15 Jul 2021 12:03:56 BST
Top