News
Fellowship to boost research into health impact of ads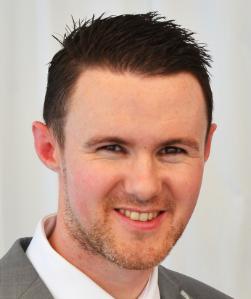 One of Middlesbrough's leading health experts has secured funding with the support of Fuse to develop his research on the impact of advertising on public wellbeing.
Advanced Public Health Practitioner Scott Lloyd has been awarded a National Institute of Health Research (NIHR) Pre-Doctoral Local Authority Fellowship.
Scott will work on his Fellowship part-time for two years, during which time he will complete a Master's degree in Public Health at Newcastle University.
His research which will focus on the extent of outdoor advertising of food, alcohol and other industries and the impact of local authority policy changes that restrict such advertisements. After the two years, Scott will look to secure a full Doctoral Fellowship.
He will be supervised by Professor Ashley Adamson, Director of Fuse from Newcastle University, Professor Amelia Lake, Fuse Associate Director from Teesside University, Dr Sarah Sowden of Newcastle University and the Office for Health Improvement & Disparities, and Dr Emma Boyland of the University of Liverpool.
NIHR Pre-Doctoral Local Authority Fellowships are part of a pilot scheme designed to support the academic ambitions of individuals wishing to develop as health and/or social care researchers while remaining employed within local councils or their commissioned services.
Scott said: "There is increasing recognition of the importance of how the environment in which we live influences our health.
"Advertising is everywhere – there has been a lot of focus about the amount on TV and online, but marketers also place adverts on bus shelters, phone boxes, bins and roundabouts.
"Transport for London have shown that it is possible to restrict advertising on their land without necessarily impacting on revenues and some Local Authorities are following suit.
"I hope that my research will further support this move as part of wider efforts to improve the health of our residents.
"I'm also passionate about using the skills that I learn to further embed a culture of research within Middlesbrough Council and Redcar & Cleveland Borough Council."
"At Fuse we are proud to work closely with our practice partners on research that makes a difference to people's lives."
Prof Ashley Adamson, Fuse Director
from Newcastle University,
Professor Ashley Adamson said: "Fuse and Newcastle University are delighted for Scott and looking forward to supporting his fellowship focusing on this important research.
"This is a brand-new scheme and it is fantastic that Scott is among the first recipients of the award.
"This is a brilliant opportunity and I hope Scott will be the first of many from across our region.
"At Fuse we are proud to work closely with our practice partners on research that makes a difference to people's lives."
Last modified: Wed, 06 Oct 2021 12:29:43 BST
Top