2016
World-leading public health experts gather to discuss research evidence & impact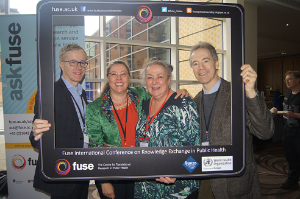 Research evidence is often talked about in debates about health - but what actually counts as 'evidence' and how can we use this to make a real impact on people's health and wellbeing?
This was the focus of the Third International Conference on Knowledge Exchange in Public Health which took place 27-28 April under the theme "Evidence to impact in public health" - organised by Fuse, the Centre for Translational Research in Public Health.
Academics and other users of research from Australia, Canada, Europe and America gathered in Newcastle-Gateshead in North East England to exchange ideas, evidence and expertise. The event was co-sponsored by Tranzo (scientific centre for care and welfare) at Tilburg University in the Netherlands and the World Health Organization (WHO), Regional Office for Europe.
Making a difference in Public Health
The presentations covered a variety of topics including the impact of evidence, information and research and reflected on questions such as: how acceptable are financial incentives for breastfeeding? Can participating in community music enhance wellbeing in people facing challenging circumstances? What works in the 'real world' to help prevent HIV in men who have sex with men? And how can evidence be used to prevent violence?
Attendees also heard from academics getting to grips with life in practice settings such as Local Authorities and found out how information could be made beautiful though data visualisation and interactive tools.
Keynote speakers included Dr Claudia Stein, Director of the Division of Information, Evidence, Research and Innovation at WHO/Europe; Professor Hans van Oers, of Tilburg University in the Netherlands; Professor John Lavis of McMaster University in Canada; and Dr Bev Holmes of the Michael Smith Foundation, Canada. The international speakers joined Professor Rosemary Rushmer, from Teesside University, who led the organisation of the conference for Fuse.
Speaking of WHO/Europe's involvement, Dr Claudia Stein said: "The Fuse conference was a truly exciting event - presentations spanned from high level policy issues to concrete work in the community. For everyone who was there from the World Health Organization it was a real privilege, not only to see the breadth of topics covered, but especially to be in touch with colleagues at the 'coal face' who are translating knowledge into policy and action in their day-to-day work."
Professor Henk Garretsen, Director Department Tranzo, said: "The Third Fuse International Conference on Knowledge Exchange in Public Health was a tremendous success. I really enjoyed it and I have learned a lot. It was great to share our experiences on issues like managing innovation, the use of stakeholders views, the use of networks, and the role of the World Health Organization. We have more than enough topics for an ongoing debate. On to the fourth conference."
The conference built on the success of the previous two conferences: Durham, UK in 2011 and Noordwijkerhout, the Netherlands in 2013.
Working together in times of austerity
Fuse invited senior leaders from across the North East to a pre-conference event to explore how academics and practitioners can work together, in new and closer ways, against a backdrop of austerity. During this Bev Holmes and John Eckenrode, Professor of Human Development and Associate Director of the Bronfenbrenner Center for Translational Research at Cornell University, shared their experiences from Canada and the USA.
More information about the conference is available here: www.fuse.ac.uk/events/3rdfuseinternationalkeconference. Catch-up with all the action and debate on Twitter using the hashtags #FuseKEC16 and #evidence2impact
Photo with the Fuse selfie frame (R-L): John Lavis, Claudia Stein, Rosemary Rushmer, and John Eckenrode.
Last modified: Tue, 31 Jul 2018 09:13:29 BST
Top