2016
Pledge to strengthen community involvement in research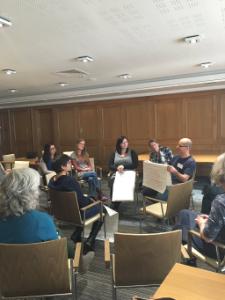 Fuse and a North East charity have formed an exciting partnership to underpin their existing commitment to involving patients and the public in health research.
Involve North East (INE) and Fuse (the Centre for Translational Research in Public Health) are forging closer ties by signing a Memorandum of Understanding (MOU) to express their joint commitment to engaging communities across the region in research and using the outcomes to shape public health delivery and policy.
The shared objectives set out in the MOU are:
To identify research opportunities;
To promote greater involvement of communities in research programmes and funding applications;
To promote knowledge exchange about public and community involvement;
To identify ways of research outcomes having a greater influence on health and social care commissioning plans;
To foster greater collaboration between staff;
To share information and intelligence.
Both organisations will explore different ways of working to ensure genuine engagement and dialogue. This includes holding regular meetings, sharing resources and materials, and reviewing joint working and staff learning opportunities, for example, through stakeholder events, funding opportunities, and cross organisation learning.
Involve North East will support Fuse research projects in a range of activities including input from local communities to inform research proposals where appropriate and dissemination of research findings.
Fuse will support INE with input from the Centre's researchers on available evidence and expertise, brokered through AskFuse – the responsive research and evaluation service run by Fuse.
The agreement builds on the collaborative work already taking place in the recruitment and research design of projects and co-hosting the successful Fuse Quarterly Research Meeting 'Beyond tokenism: patient and public involvement with impact' in 2014.
Kieran Conaty, Chief Executive, Involve North East, said: "This is the next step in Involve North East's exciting relationship with Fuse and provides a platform for even closer partnership work. Ensuring that patient and public voice influences health and social care commissioning decisions is a key objective of both organisations and this agreement can only benefit Involve North East in this respect. We look forward to a mutually beneficial relationship."
Professor Ashley Adamson, Director of Fuse, said: "This is the next step in the evolution of our partnership with Involve North East. We look forward to exploring new ways of working together and with local communities to ensure that our research is relevant and grounded in the needs of people living in the North East and beyond."
To find out more about Involve North East visit: www.involvene.org.uk
Last modified: Tue, 31 Jul 2018 09:13:33 BST
Top