2016
National award for Social Enterprise inspiring people about good food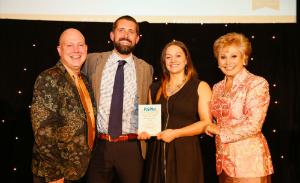 Congratulations to our third sector partners Food Nation on picking up two prestigious awards at the Royal Society for Public Health (RSPH) Health and Wellbeing Awards 2016.
The Social Enterprise based in Newcastle upon Tyne, came away with both the Healthier Lifestyle Award, and the Public Health Ministers Award for its food education work, which equips people with the skills and knowledge to improve their food and nutrition choices and build healthier communities.
Food Nation was specifically awarded for its 'Food Education through Cooking Skills' project which delivers food education in premise-based work and outreach work. For premise-based work, it operates a fully functional training kitchen at their headquarters in Heaton which offers taught courses on weekdays, evenings and weekends as well as one-off workshops and special themed events for participants and volunteers.
It also operates an allotment site which it uses for food growing workshops and sessions with local schools and other community groups. In addition, it is fully equipped to deliver outreach work in a range of indoor and outdoor settings, such as sheltered accommodation, hostels, schools, community centres and other public spaces.
Nicola Blackwood MP, Minister for Public Health, said: "I am delighted to be able to award this year's Public Health Minister's Award jointly to Food Nation for its Food Education through Cooking Skills programme and A-One+ Integrated Highway Services for its Better Health at Work initiative.
"Both are outstanding examples of how organisations, large and small, can improve health and wellbeing in their communities, through developing local skills, knowledge and networks to direct interventions to where they are most needed."
The judging panel for the Healthier Lifestyles Award noted: "Food Nation's programme demonstrates a strong commitment to social value. Its staff work collaboratively with residents recognised as partners, rather than clients and there is a clear line of accountability which extends to all contributors."
Find out more about Food Nation by visiting: http://www.foodnation.org/
Photo: Jamie Sadler and Joanna Lacey from Food Nation receiving their Healthier Lifestyles Award, courtesy of the Royal Society for Public Health.
Last modified: Tue, 31 Jul 2018 09:13:35 BST
Top