2016
Fuse co-authored health inequalities book a BMA award winner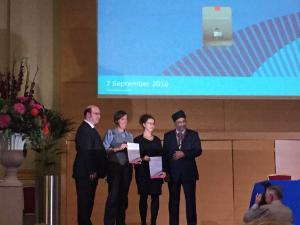 A book on health inequalities authored and edited by Fuse Associate Director Clare Bambra has won first prize in the public health category at the British Medical Association (BMA) Book Awards 2016.
Health Inequalities: critical perspectives also contains contributions from Fuse Deputy Director David Hunter and associate members Linda Marks and Kayleigh Garthwaite, all from Durham University.
The book, which Clare co-authored with Katherine Smith and Sarah Hill, provides a broad account of health inequalities in the UK and challenges widely accepted ways of thinking, enabling the reader to identify criticisms of existing research. It addresses and summarises key findings for distinct audiences in research, and sets out alternative ways of thinking about health inequalities and future research agendas.
The award was presented by Professor Pali Hungin, President of the BMA (see photo). The judges considered hundreds of books and 12 were shortlisted in the public health category.
Clare Bambra, Professor of Public Health Geography at Durham University, said: "We were delighted to win the BMA award for best public health book of the year - it is recognition by the medical community of the importance of health inequalities and the importance of addressing them radically through evidence, policy, practice and advocacy."
The BMA judges noted that: "[this edited volume] provides concepts and theory that are needed for researchers and practitioners new to the field in a lively, engaging and thoughtful way.
"Important strengths include the consideration of several dimensions of health inequalities (beyond just socioeconomic), excellent engagement with a diverse range of disciplines and a lively writing style.
"This is an excellent addition to the health inequalities field. It presents a timely update on a major policy priority in an accessible manner."
The BMA medical book awards takes place annually to recognise outstanding contributions to medical literature.
Last modified: Tue, 31 Jul 2018 09:13:32 BST
Top