2016
Fuse academics helping to improve health in Europe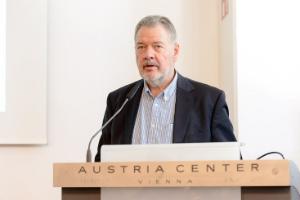 Advisors to the World Health Organisation (WHO) shared their work at a major conference which aims to contribute to the improvement of public health in Europe.
Fuse Deputy Director David Hunter, Professor of Health Policy and Management, and Centre associate Dr Shelina Visram, Senior Lecturer in Public Policy and Health, from Durham University presented at the Ninth European Public Health (EPH) Conference in November.
David (pictured), spoke in three sessions at the event held in Vienna. The first, a workshop organised by World Health Organization Europe with Durham University, University of Valencia and the Independent Hospital Pricing Authority (IHPA) on implementing the European Action Plan for Strengthening Public Health Capacities and Services. Professor Hunter presented highlights from the mid-term progress review of the Plan commissioned by WHO from Durham University's Centre for Public Policy & Health (CPPH). The workshop focused on next steps and an Agenda for Action. He later discussed the mid-term review at an oral session on the topic health services and policy-making.
Professor Hunter also presented at a workshop organised by DEFACTUM – Public Health and Health Services Research, Central Denmark Region on how professional groups can contribute to health services innovation in European health systems. His talk on health system transformation: engaging professions to make it happen drew on work in progress with the Health Systems Division at WHO Europe on the same topic. See the report here.
Shelina gave a pitch presentation on the development of a survey to establish a baseline of country capacity to generate, appraise, translate and apply research evidence for health policy-making across Europe. This work, in collaboration with David and colleagues from the Evidence-Informed Policy-making Network (EVIPNet) Europe, has arisen from CPPH's status as a WHO Collaborating Centre on Complex Systems Research, Knowledge and Action. Dr Visram also presented interim findings from the evaluation of the Wellbeing for Life service in County Durham. The evaluation webpages can be found here.
The EPH Conference aims to contribute to the improvement of public health in Europe by offering a means for exchanging information and a platform for debate to researchers, policy-makers, and practitioners in the field of public health and health services research, as well as public health training and education in Europe. The theme for this year's conference, which attracted more than 1700 delegates, was 'All for Health, Health for All'. Find out more here.
Last modified: Tue, 31 Jul 2018 09:13:36 BST
Top