2015
Which food scare headlines should we be swallowing?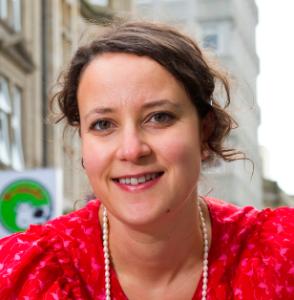 Fuse academic and dietitian Amelia Lake has provided expert advice to help bust the myths surrounding conflicting health and diet studies.
Dr Lake (pictured), a public health nutritionist and lecturer in knowledge exchange at Durham University, shares her thoughts on the challenge of maintaining a healthy diet when the advice on whether to eat organic produce, saturated fat and other food stuffs seem to change on a daily basis.
Speaking to The Journal newspaper Amelia points out: "You often have to look behind the headlines at who's funded the study. Think about the body of evidence, which has taken decades to build up."
In the article Amelia and Tom Sanders, professor of nutrition and dietetics at King's College London, are asked to reveal their opinions. Below is what Amelia had to say:
Saturated fat
Dr Lake says: "There's no body of evidence that says it's fine to have saturated fat. We should be trying to mirror the Mediterranean diet, which doesn't include saturated fats like butter, and red meat doesn't feature strongly. A bit of butter on your toast occasionally might be OK, but it's the behaviours you repeat on a daily basis that can cause problems."
Red wine
Amelia says: "There's completely convincing evidence that alcohol is related to cancer. Can it ever be good for you? I would argue 'no'."
Organic food
Amelia says: "While there's a growing body of evidence that seems to indicate organic might be related to better health, at the moment, that's of less importance than getting people to eat fruit and vegetables. Organic is more of a lifestyle choice for people who can afford it."
Coffee
Dr Lake points out that certain groups, such as pregnant and breastfeeding women, and people with particular heart problems, probably shouldn't drink coffee.
She adds: "We already have a pretty good idea of which foods are healthy. People need to use common sense, and be wary of the headlines, because there haven't been that many groundbreaking discoveries in terms of diet and health recently. If you hear something that sounds too good to be true, it probably is."

The article appeared in the newspaper and not online but a full copy of the article text can be found here on thefreelibrary.com
Last modified: Tue, 31 Jul 2018 09:13:20 BST
Top