2015
Researchers call for more targeted weight loss programmes to tackle obesity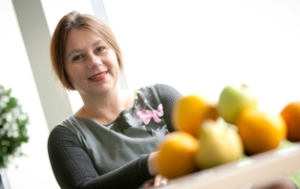 Fuse researchers are calling on the Government to introduce more weight loss programmes targeted at low-income women and children in deprived areas after research shows they have at least short term benefits in tackling obesity.
The study by Fuse academics at Durham University found that tailored weight loss programmes were effective in reducing socio-economic inequalities in obesity among women in the short term.
However, there were limited examples where such weight loss interventions were successful for low-income men.
There was also little evidence of long term effectiveness. The researchers say interventions will need to be of a longer duration and followed up by weight maintenance programmes.
The systematic review of data, which was funded by the National Institute for Health Research (NIHR), looked at 76 unique child studies and 103 adult studies worldwide. The report is published in Public Health Research.
Study author, Fuse Senior Investigator Professor Carolyn Summerbell (pictured) from the School of Medicine, Pharmacy and Health at Durham University, said: "Obesity is a major problem in our society which can lead to diseases such as diabetes, heart disease and high blood pressure. It is crucial to find out what works and what doesn't when it comes to tackling obesity, particularly among groups where the condition is most prevalent.
"Certain targeted programmes can work in reducing obesity, and importantly, they can also reduce health inequalities between different socio-economic groups. This is why we call on Government to increase the number of targeted interventions that have shown to be effective and at the same time, explore ways to achieve long-term positive effects."
The project team conducted two systematic reviews to consider the effectiveness of interventions aiming to reduce socio-economic inequalities in obesity; one looking at interventions for children (aged 0-18 years) and one looking at adults (over 18 years). They then determined how the interventions were organised, implemented and delivered.
The researchers found that interventions designed to prevent, reduce or manage obesity do not increase inequality and that some interventions reduced the social gap in obesity or decreased obesity amongst more deprived groups.
For children, nutrition and physical activity-based interventions delivered in schools were found to be the most effective in the longer term, and programmes that took environmental factors into account or provided community empowerment also had some potential in reducing obesity in deprived areas.
For adults, weight loss interventions delivered by primary care or by community groups, including workplace ones, were found to be the most effective, although mainly amongst low income women.
For example, two studies set in deprived areas of the UK which promoted healthy eating and exercise using cognitive-behavioural interventions were successful in achieving weight loss after three months. Another study targeting low-income mothers in the USA found that a combined nutrition and physical activity intervention, with healthy eating advice and techniques to change behaviour, also had successful outcomes after six months.
Fuse Associate Director and Principal investigator of the NIHR project, Professor Clare Bambra from Durham University's Department of Geography, said: "Tackling obesity is one of the major public health policy challenges and is vital in terms of addressing health inequalities. Obesity is more common in deprived areas and it is important we find the best ways to reduce these inequalities.
"This review shows there are some success stories in terms of tackling obesity in the short term. The good news is that programmes aimed at addressing obesity do not increase inequality, and some actually narrow the inequality gap or reduce obesity amongst deprived groups."
Last modified: Tue, 31 Jul 2018 09:13:19 BST
Top