2015
Report joins the dots between health and the economy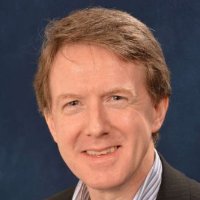 An influential public health practitioner in the North East and founding member of Fuse has contributed to a report which provides a series of reflections on the critical relationship between health and the economy.
Eugene Milne (pictured), who was instrumental in setting up the Centre for Translational Research in Public Health and still sits on Fuse's Strategy Board, provides a chapter in the report: joining the dots – making healthcare work better for the local economy.
In his chapter Professor Milne, Director of Public Health at Newcastle City Council with honorary academic potions at both Durham and Newcastle University, unpacks the changes to public health and to NHS delivery and focuses on how healthcare services should be organised to create maximum effectiveness at least cost.
In summary of Eugene's contribution, the report says:
"As many contributors in this collection assert, the health of the UK relies on many factors: good housing; quality of education and employment opportunities; and the extent of local services and quality of place in which a person grows up and grows old. The health inequalities that are playing out are a consequence of neo-liberal reform as well as pro- London economic strategies. Healthcare services are left to deal with the consequences of decisions made in other political arenas.
"Milne challenges the automatic assumption that preventive action will reduce need and dampen demand, and calls for an understanding of the psychological and social benefits of integrated and alternative care, while highlighting the need for investment in medical research and short-, medium- and long-term prevention. Health and cost-containment objectives could be better delivered if more people lived out a greater proportion of their lives in good health. Current NHS reforms are not likely to deliver change, not only because of a funding shortfall but also through the erosion of appropriately situated and accountable governance capacity."
The publication considers six interrelated issues:
How does good health contribute to economic growth?
Who should take responsibility for creating the conditions for good health and wellbeing?
What opportunities for holistic action are delivered by the shift in managerial responsibilities for public health?
What is the role of healthcare in addressing income as well as health inequalities?
What contribution does the healthcare system deliver to the UK economy in its own right?
What is the impact of the shifting governance of healthcare systems?
The report was edited by Rose Gilroy and Mark Tewdwr-Jones and published by The Smith Institute, an independent think tank. Professor Milne wrote Chapter 8: NHS reorganisation – a story of turbulent governance and changing institutions.
Read the full report here on the Smith Institute website.
Last modified: Tue, 31 Jul 2018 09:13:40 BST
Top