2015
Fuse health expert calls for more measures to tackle Ebola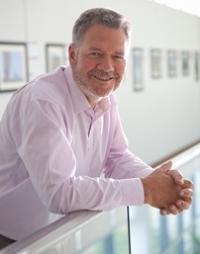 A Fuse health expert is among a group of professionals urging EU Member States to "mobilise all possible resources" to assist West Africans in controlling the Ebola epidemic, in an open letter published in The Lancet.
Professor David Hunter, Fuse Deputy Director from Durham University is among 44 signatories from 15 European countries calling for European countries to take specific measures. They ask for health professionals to be allowed to volunteer for temporary leave to assist with the crisis, and for private companies to be incentivised to reverse travel restrictions to affected regions.
"We call on our governments to take an active and dedicated role, in partnership with West African countries and the UN, to ensure that the response over the next months is managed transparently and effectively, and in ways that support complementary goals for human and economic development in the region", say the authors, pointing out that Europe's strategic approach to its response to the epidemic is as just as important as its financial and material commitment.
Professor Hunter (pictured), who also holds an advisory position with the World Health Organisation's Regional Office for Europe, said: "The Ebola epidemic has taken the international community by surprise and the global response to it has been slow and overdue. Those of us active in public health across Europe, who have signed the letter in The Lancet, are urging governments to do more to tackle the epidemic. Without such action, the Ebola virus is not just a threat to those countries worst affected but to all of us."
The authors add that European countries should ensure that aid is channelled to organisations already on the ground, particularly those led or primarily staffed by West Africans. These groups have the strongest community roots and can best engage local populations in control efforts.
At the same time, international donations need to support, rather than replace, local economies and social systems, donations need to be accountable, and affected populations need to benefit from their contributions to research.
According to the letter, "Since Ban Ki-moon entreated the international community to help on Sept 5, 2014, several countries have stepped forward with donations, equipment, and personnel. This global response is long overdue, but we fully expect all our European democracies (predicated on principles of solidarity, equity, and social protections) to make up for lost time with celerity, determination, and commitment. The Ebola epidemic represents a public health imperative; unchecked, it might very well become a geopolitical crisis."
Last modified: Wed, 01 Aug 2018 20:23:28 BST
Top