2015
Fuse academic puts alcohol in the spotlight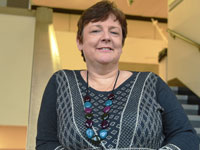 As each New Year begins with more of us choosing not to drink in January, an event led by a Fuse academic is to look at the risks and benefits of consuming alcohol.
Last year around 17,300 people took part in Dry January by not drinking alcohol for the whole of the month, a rise of 4,500 from the previous year. The number of participants is expected to have risen again when the campaign ends this month.
Fuse associate Dorothy Newbury-Birch, who recently joined Teesside University's Health and Social Care Institute as Professor of Alcohol and Public Health Research, will put the issue in the spotlight with her inaugural lecture on Monday 26 January.
Professor Newbury-Birch said: "Campaigns such as Dry January are helping to change attitudes to alcohol. Around one in three people have some kind of alcohol disorder, so the most important aspect is to encourage people to understand that alcohol misuse is an issue which we all need to think about."
Her lecture, Alcohol our favourite drug: The risks and benefits of alcohol to individuals and society, will explore what the risks and benefits of alcohol are both to the individual and to society and in different contexts. It will also identify interventions that can be carried out to work with people who have alcohol use disorders.
She added: "Rates of alcohol use disorders are high in the North East so it is an important area for academic research. We're aiming to become the hub for alcohol research and lead on work that is important to science, public health and members of the public."
Professor Newbury-Birch's research interests are in reducing alcohol related harm in society, particularly in the criminal justice system and with young people, as well as working in partnership with individuals and practitioners to get evidence into practice.
Her lecture can be heard in the University's Centuria Building, Room H0.01, from 3.30pm to 5.00pm. Places are limited and can be booked on 01642 384520 or email sohsc.events@tees.ac.uk
Last modified: Tue, 31 Jul 2018 09:13:20 BST
Top