2015
Experts working with WHO to enhance evidence-informed policy in Europe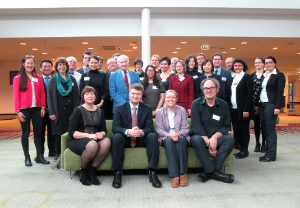 Fuse members from Durham University's Centre for Public Policy and Health (CPPH) are working to progress evidence-informed policy across Europe, as part of a programme of activities arising from the CPPH's collaboration with the World Health Organisation (WHO).
Deputy Director David Hunter and Fuse associate Shelina Visram took part as WHO temporary advisors in the first technical expert meeting held in Vilnius, Lithuania in January. The meeting brought together around 30 participants, including knowledge translation (KT) experts, researchers and policy-makers from across WHO Europe member states (see photo). Shelina and David were commissioned by WHO EVIPNet to prepare three background papers for the meeting and give presentations at two of the sessions.
Evidence-informed policy (EIP) and knowledge translation are key pillars in the implementation of 'Health 2020' - the WHO adopted European policy for health and well-being. The challenges facing countries around evidence-informed policy include: a limited awareness and commitment; insufficient EIP capacity to assist in the implementation of Health 2020 and other health policies; a lack of regional EIP networks to share good practice; and insufficient support for knowledge brokers and the adoption of tools and mechanisms to assist EIP.
Among the next steps agreed at the meeting is a mapping exercise to capture what member states are doing to encourage research use and uptake. The Centre for Public Policy and Health will help to lead this work over the coming months in preparation for a meeting of health ministries from all 53 member states in June.
Last modified: Tue, 31 Jul 2018 09:13:19 BST
Top