2015
Centre impact case study showcased in UK medical school top 40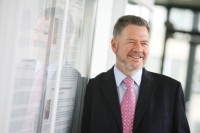 A case study by two Fuse members has been selected by the Medical Schools Council for inclusion in its new publication, Health of the Nation: The impact of UK medical schools' research, which reports the 'most impressive' medical research happening across the UK and its impact.
The case study was submitted to the Research Excellence Framework (REF) - the system for assessing the quality of research in UK higher education institutions - by Fuse Deputy Director David Hunter (pictured) and Associate Linda Marks from Durham University. It describes how Durham University's Centre for Public Policy and Health (CPPH) has worked closely with the World Health Organisation's (WHO) Regional Office for Europe to help design the European Action Plan for strengthening public health capacities and services.
The European Action Plan draws extensively on three major CPPH research projects on the nature and governance of the public health system in England. The Plan was published by WHO Europe and endorsed by all 53 Member States at the Regional Committee in 2012. CPPH is currently working with WHO Europe on the implementation of the Plan and to assess its impact.
Read the full report (the CPPH impact case study is featured on page 40)
Last modified: Tue, 31 Jul 2018 09:13:20 BST
Top