2014
Fuse welcomes new director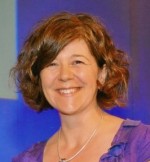 Fuse is delighted to announce that Ashley Adamson will take up the position of Director at the beginning of October.
Ashley, Professor of Public Health Nutrition at Newcastle University, takes over the role from Professor Martin White, who as the Centre's founding Director has been at the helm since its launch in 2008. In her role as a Fuse Associate Director and Programme Lead for the Early Life and Adolescence research programme, she has played a key role in helping Martin to establish the Centre in its first six years.
Professor Adamson has over 25 years' experience working in the health field. After graduating in 1987, she began her career as a dietitian in the NHS before moving to Newcastle University as a Research Associate. She was awarded her PhD from Faculty of Medicine, Newcastle University in 1993 and worked in clinical practice in a number of community dietetic posts and in primary care in London.
In 1995 she returned to Newcastle University to take up a post in the newly created Human Nutrition Research Centre, where she is now Deputy Director and leads a successful team in Public Health Nutrition Research. She also heads the Public Health Improvement research theme in the University's Institute of Health and Society.
Dietary assessment continues to underpin much of her research. Her work seeks to understand the complex relationships between the food environment, food choice, nutrient intake, physical activity, individual and socio-demographic characteristics and health outcomes. Her research spans the life course but has a particular focus on children, families, young people and school food policy.
Following recent research to measure the impact of change in school food policy she was invited to join the expert panel of the School Food Plan. She was appointed a Fellow of the Faculty of Public Health by distinction in 2011 and awarded an NIHR Research Professorship in 2012.
Professor Adamson (pictured) is no stranger to the limelight and has appeared on BBC television helping chef duo the Hairy Bikers to lose weight and get healthier. She is a member of the Department of Health (DoH) Public Health Research Consortium and her new Fuse Director role includes leadership of Fuse's membership of the NIHR School for Public Health Research.
Ashley will take over the Directorship from 1 October. She will build on Professor Martin White's invaluable leadership success in bringing together and strengthening expertise from the five universities in the North East to conduct world-class research into public health issues and to 'translate' the findings for the health sector.
Fuse owes a debt of gratitude to Martin who has been instrumental in helping the Centre to forge lasting partnerships with colleagues in the NHS, local government, voluntary and community sectors, and build capacity by developing post-graduate training and creating challenging new academic posts. He was also involved in the launch of Fuse's responsive research and evaluation service 'AskFuse'.
Everyone in Fuse wishes Martin well as he takes up his new position with the Centre for Diet and Activity Research (CEDAR) and the MRC Epidemiology Unit at the University of Cambridge.
Speaking about this change of roles, Martin said:
"It has been a huge privilege to work with research leaders across the five North East universities, as well as colleagues in public health policy and practice, over the last 6-7 years. Together we have established Fuse as a unique centre of excellence, which has become highly regarded nationally and internationally. None of this would have been possible without the tremendous support of my colleagues. I have gained greatly from the experience and thank everyone in Fuse for their help and support.
Ashley is one of the country's leading public health researchers. I am confident she will provide the leadership that Fuse needs during the next phase of its development. I shall miss everyone in Fuse and the Institute of Health and Society, but wish you all the very best on Fuse's onward journey."
Taking on this role Ashley said: "I am delighted to have been appointed Director of Fuse and I am very much looking forward to working with everyone connected to the Centre. Of course, I take on this role with a degree of trepidation; Martin is a hard act to follow.
Over the past 6-7 years Martin has led Fuse with great skill and dedication. Our initial success in achieving UKCRC Centre of Excellence in Public Health funding in 2008 as a partnership of the five North East universities was unprecedented. Our successful bid for membership of NIHR School for Public Health Research in 2012 and UKCRC renewal in 2013 has shown that not only was this unique partnership possible it is also hugely successful. We have all been beneficiaries of Martin's vision and direction. I take over as Director with Fuse in great shape with a team and resource ready for future challenges."
Three facts: Familiarise yourself with Fuse's new Director Ashley Adamson
Ashley has been instrumental in helping free school meals become a reality for all children in their first three years at school.
Professor Adamson is no stranger to the limelight and has appeared on BBC television helping the Hairy Bikers to lose weight and get healthier.
She won a prestigious professorship that gives 'the country's most outstanding research leaders' the opportunity to dedicate themselves to the improvement of health through their research.
Last modified: Wed, 01 Aug 2018 20:23:55 BST
Top