2014
Building on Health and Wellbeing Strategies in the North East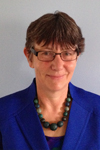 Fuse associate Dr Alyson Learmonth (pictured), Honorary Senior Lecturer, Durham University conducted a review of the twelve north-east Health and Wellbeing Boards Strategies. She is undertaking a six month knowledge exchange exercise to understand whether and how the Health and Wellbeing Board Strategies could be usefully nested within a complex systems framework, in order to assist peer learning and ultimately reduce health inequalities.
At the Fuse Members' meeting in September, Alyson ran a Knowledge-to-Action workshop. In her review of the twelve north-east Health and Wellbeing Board Strategies, Alyson found consensus amongst Local Authorities on two priorities:
1) giving children the best start in life and
2) increasing life expectancy and reducing health inequalities.
She asked Fuse Members what they could contribute towards achieving these priorities.
Invitation to online discussion
This workshop served as part one of three KTA events Alyson is holding over the next six months with academic, policy and practice partners in the north-east. As part of this, she is running an online discussion board through LinkedIn to which you are warmly invited to take part. Details of how to get involved are provided below. Your views and others will feed in to a summative workshop on the 5th February 2015, at the Wolfson Research Institute. Depending on interest, this work may cumulate into a Fuse Complex Systems Research Programme working group around the HWBS (aka, a Knowledge-to-Action Group).
How to join the online discussion
Login to your LinkedIn account. If you are not a member, you can easily join here https://www.linkedin.com.
Once logged in, use the search bar at the top of the webpage to enter 'Fuse Complex Systems Research Programme' (NB. you must spell it correctly). You can refine your search by viewing only 'groups'.
Click on the link to the CSRP group, and you will be taken to its profile page. Click on the 'Join' button. A request will be sent to the managers for approval.
You will receive an email once your membership is approved. Navigate to the group page using the tool bar at the top of the webpages by following 'interests'>'groups'. The CSRP group should be listed on your groups page.
See the discussion so far and add your comments.
For more information or to be added to the CSRP mailing list please contact Emily Henderson.
Last modified: Tue, 31 Jul 2018 09:13:17 BST
Top