2015
Northumbria University hosts national transport and cycling debate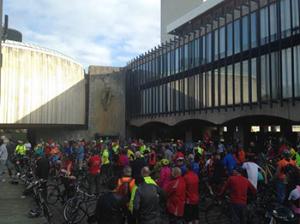 A Fuse associate is coordinating a special debate around transport with Northumbria University, newcycling.org and the Economic and Social Research Council during November's Festival of Social Sciences.
The event, on Saturday (14 November), features speakers such as Christian Wolmar and Rachel Aldred and will provide an opportunity to discuss transport and cycling issues. The debate will run over the course of a full day and will bring together researchers and advocacy groups to discuss the various aspects of cycling.
Fuse Associate Dr Seraphim Alvanides, from the Department of Architecture and Built Environment at Northumbria is the main coordinator of the event. He said: "Cycling in cities is currently a hot topic in cities across the UK and as social science researchers we have an obligation to reach out of our academic confines and engage with societal debates. "The ESRC Festival of Social Science presents a unique opportunity for academics to communicate with the cycling community and take a stand in supporting cycling campaigners.
"By organising this open debate we will raise awareness amongst policy makers and the wider public on a topic that concerns us all in our daily mobility's. After all, we want our cities to become more pleasant, safer and healthier."
Northumbria PhD student Katja Leyendecker is co-organiser of the event and is the chair of newcycling.org. She said: "The event brings together thinkers and doers on transport cycling matters for an event which is the first of its kind in the UK. We have an impressive line-up with Christian Wolmar and Dr Rachel Aldred, and many others, perhaps less prominent and visible, but equally influential in their own right.
"If we can share and coordinate the way we seek to influence policies and decision-makers' thinking, we could be more effective in our future actions. Research on urban transport matters is clear about what needs to happen, and there is a lot of frustration amongst researchers of getting the message out and the slow pace of change. I think it's a logical step getting academics and advocates together to combine the practical and theoretical to form activism and get things happening. Exciting, I can't wait – I am really looking forward to the day."
For more information about the ESRC please visit www.esrc.ac.uk. For further information about newcycling.org please visit http://newcycling.org/newcastle-hosts-first-national-debate-of-cycling-academia-and-advocacy.
Photo credit: 1 - Russell Bayliss (picture: rally organised by newcycling.org)
Last modified: Tue, 31 Jul 2018 09:13:47 BST
Top